Weather and Cancellation Policy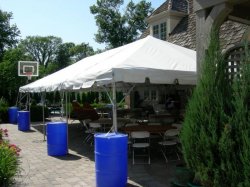 Tent Safety Notice
Tents are temporary structures designed to handle most normal weather conditions; however, there may be situations that become unsafe such as high winds or lightning. Evacuation of tents is recommended in these or other unsafe conditions. We will not be liable for poor weather conditions or natural disasters.
St Lucie Bounce House Rentals has been in the party and event rental industry for a long time! We know just how crazy and unpredictable Mother Nature can be! 
We always reserve the right to cancel a reservation (at no penalty to you) if there are heavy rains or high winds (over 15 mph). Safe operation of our units and customer safety is our utmost concern.
Florida weather changes day to day. We encourage our customers to watch the weather reports right up to the day prior to their event before calling to cancel!  Pay attention to the TIME of expected poor weather. Most times the severe weather is not expected during your party times. We unfortunately have had customers in the past cancel the day before against our recommendations only to have perfect weather on their event day and call to ask for a delivery we can't make. *We will do the best we can to help you in this area!
An inflatable attraction can still operate in the rain and a passing shower does nothing more than wet the unit. If that happens, DO NOT DEFLATES THE UNIT!!! Simply wait for the rain to pass, wipe down the unit with a towel and continue with the fun! While that is our Inflatable rain policy, it is always important that you exercise caution when operating an inflatable and should always air on the side of caution and deflate the unit if you have any doubt on what to do. THE INFLATABLE MUST NOT BE USED WHEN WET UNLESS DESIGNED TO BE SO or WHEN WINDS ARE 15 MPH OR MORE or exceed the manufactures guidelines.